i really like quick and easy dinners.
i don't even work in the winter and i still like them. i need that extra time to eat chocolate chips out of the bag and rewatch episodes of weeds on netflix. not at the same time, of course. so, you obviously see why quick is good. if you roast your peppers in advance or use jarred ones, this sauce comes together in the time it take to boil the pasta.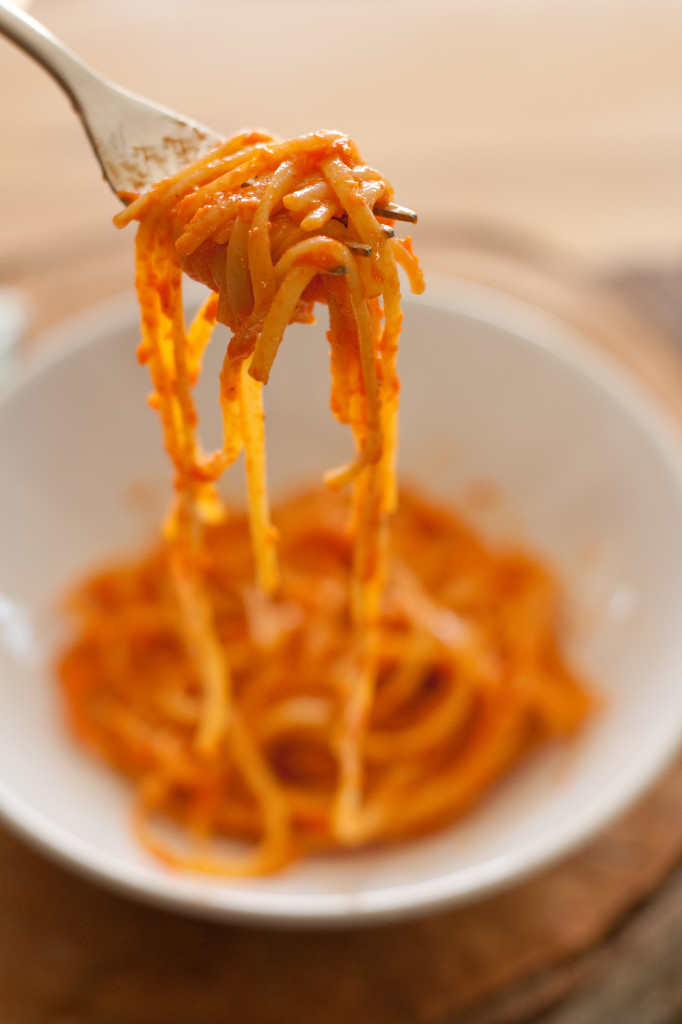 i had to be pretty inventive with what was in the fridge this week. temps were near -50F with the wind chill and i was NOT about to go out for groceries. would you believe me if i told you i wore pajamas for three days straight? you should. because that's really what happened.
lucky for you guys, i put together this super tasty (and easy!) comfort meal with what I had. add a salad or garlic bread and i think you almost have a fancy meal.
*if there's just two of you, like us, you can keep half the sauce in the fridge and cook the pasta for it when you eat it again!
roasted red pepper linguini
serves 4
2 large red peppers (or 3 medium), roasted with skin peeled off (two jars of roasted red peppers would work too!)
2 tablespoons butter
1 onion, diced small
3 cloves of garlic, minced
1 teaspoon sugar
1/2 cup vegetable broth
1/2 cup shredded cheese, i used monterey jack and brick cheese
salt, to taste
12 ounces linguini pasta
basil or parsley, to garnish
boil water for the pasta. cook according to package directions.
in the meantime…
cook the onions and garlic. melt butter in a frying pan and add the onions. cook until softened, about 5 minutes. add the garlic and cook for an additional minute.
puree the veggies. toss the red peppers, onions and garlic in a food processor or blender. blend until smooth. this took me about a minute in my food processor.
complete the sauce. pour the pureed veggies back into the frying pan over medium-high heat and cook until warm. slowly stir in the 1/2 cup of vegetable broth and add the sugar. once it's hot again, turn it down to medium heat and toss the cheese in. let it sit for a minute or so while it melts and stir until combined. taste test to see if it needs any salt or, if it's too bitter, additional sugar.
combine the pasta and sauce. before draining the pasta, grab a 1/4 to 1/2 cup of the pasta water and stir it into the sauce. drain the el dente pasta and put it in the pan with the sauce. stir frequently for 3-5 minutes while the pasta and sauce bind together. serve hot, garnished with parsley or basil.
Hey! See what I'm up to:
enlighten yourself with other interesting posts: