i'm listening to my "laid back beach music" pandora station this morning.
how rebellious of me, for there's an inch of fresh snow on the ground outside reminding me that i'm in wisconsin–where march can still mean winter. WHAT THE WHAT. that's okay, it'll be gone before we know it, right? right. okay, now that we've got the weather chit-chat out of the way, make these cookies. they're chewy, a little bit gooey, and a lot ugly. but looks aren't everything, friends. remember that.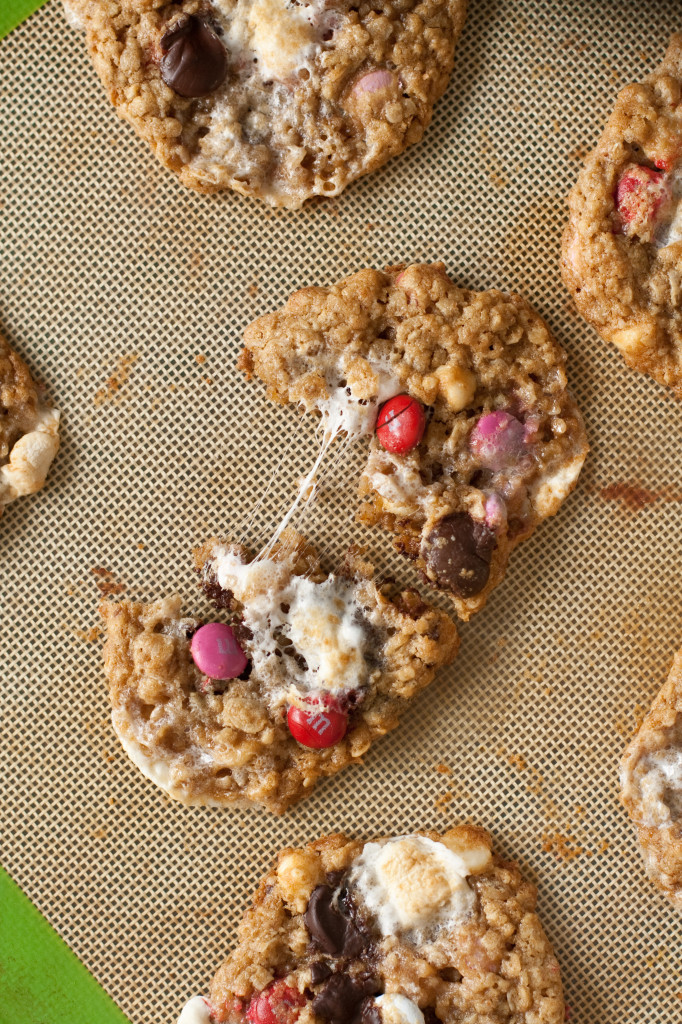 i honestly don't even know what to say about these cookies other than THEY ARE AWESOME. it must be the unconventional addition of marshmallows and super extra amount of add-ins. because it's always about the add-ins, amiright? like the fro-yo places popping up everywhere… you get to the checkout and realize you forgot to put any ice cream in your bowl because you were too busy loading up on fruity pebbles, graham crackers, heath, gummy bears and grapes. or something like that.
moral of the story. you need these cookies in your life. and so do i. i'll be making them again today. and i don't often make something twice.
 ugly monster cookies
makes 5-6 dozen
1 cup butter, softened
1 cup sugar
1 cup packed brown sugar
3 large eggs
1 teaspoon vanilla extract
1 teaspoon corn syrup
2 teaspoons baking soda
1 1/2 cups peanut butter
4 1/2 cups rolled oats (i used half rolled and half quick oats)
1 mounding cup each of: plain m&m's, dark chocolate chips, white chocolate chips and marshmallows
preheat the oven. 350 degrees, please.
mix the dough. cream the butter with the sugars until light and fluffy. add one egg at a time, mixing completely before adding the next. mix in the vanilla, corn syrup and baking soda.
add the goods. slowly add the oats, making sure to scrape down the sides of the bowl. add the 4 cups of candy and incorporate completely.
bake the cookies. roll 2 tablespoons of dough into a ball and arrange onto parchment on a baking sheet. they spread quite a bit, so keep them about 3 inches away from each other. bake 10-12 minutes, until golden brown.
let cool and store. or eat. they need about 5 minutes on the cookie sheet before you're able to safely get them to a cooling rack in one piece. i put them straight into a container in the freezer and they held up very well in there.
recipe from Cooking With My Kid
enlighten yourself with other interesting posts: