Gooey gooey brownies. That's my favorite kind. These are made extra gooey by loading them with the salted hazelnut liquor caramels I shared with you last week. Did you make them yet? Pleeeease say yes. And then say you some left over to make these. Doubtful. Those babies are addicting.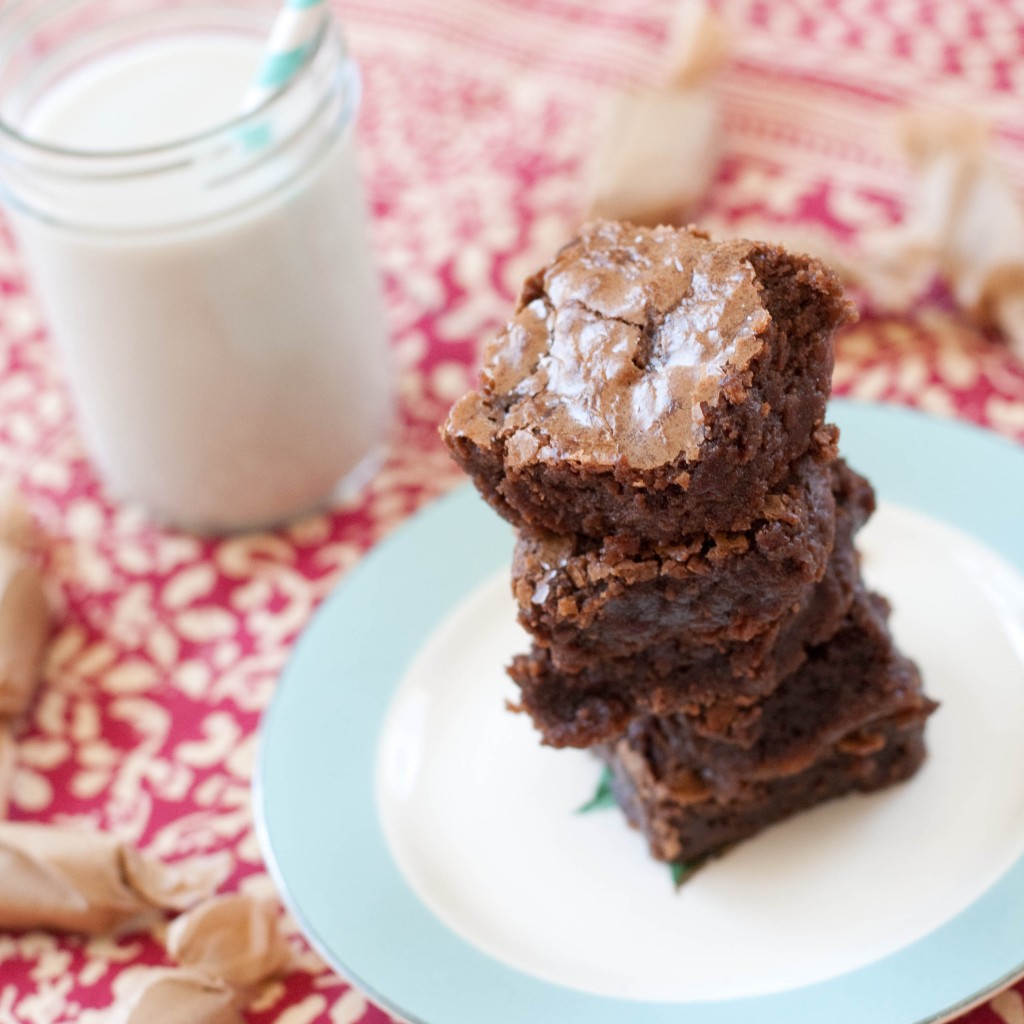 Unfortunately, none of these made it to the cooling point so I have no idea what they are like chilled, or even at room temperature. YUP. They're that good.
My photos even reflect my impatience. I had a toppling, half-smashed pile of brownies after the first 3 photos. And it only makes an 8×8 pan, so I didn't have any back-ups. Oh the humanity. So, two photos it is. Oh well. There are worse things, like a home with no brownies to be found.  Don't let that be your home.
salted caramel brownies
1/2 of these salted hazelnut liquor caramels, cut into 1/2 to 1 inch pieces
3 ounces (85 grams) unsweetened chocolate, broken into small-ish chunks
1 stick (115 grams) unsalted butter
1 cup (200 grams) granulated sugar
2 large eggs
1 teaspoon vanilla extract
Heaping 1/4 teaspoon flaky sea salt
2/3 cup (85 grams) all-purpose flour
Prepare. Preheat the oven to 350 degrees. Line the bottom of a
n 8×8 pan with parchment and butter the bottom and sides of the pan.
Melt the solids. In a small saucepan over low heat, or in the microwave in a medium-sized bowl, melt the chocolate and butter. Turn off the heat when there are a few small chunks left and let them melt over the next few minutes
Make the batter. Whisk in the sugar until combined. Then add the eggs one at a time, until fully incorporated. Then add the vanilla and salt. Fold in the flour with a large spoon.
Assemble the brownies. Fold 3/4 of the caramels into the batter. Pour the batter into the prepare pan and sprinkle the remaining caramels on top. Bake for 25-30 minutes, until a toothpick comes out clean.
Cool completely before eating. Yeah, right.

brownie recipe from the wonderful Smitten Kitchen
Hey! See what I'm up to:
enlighten yourself with other interesting posts: