in honor of national peanut butter day, i bring you this crazy-good bread.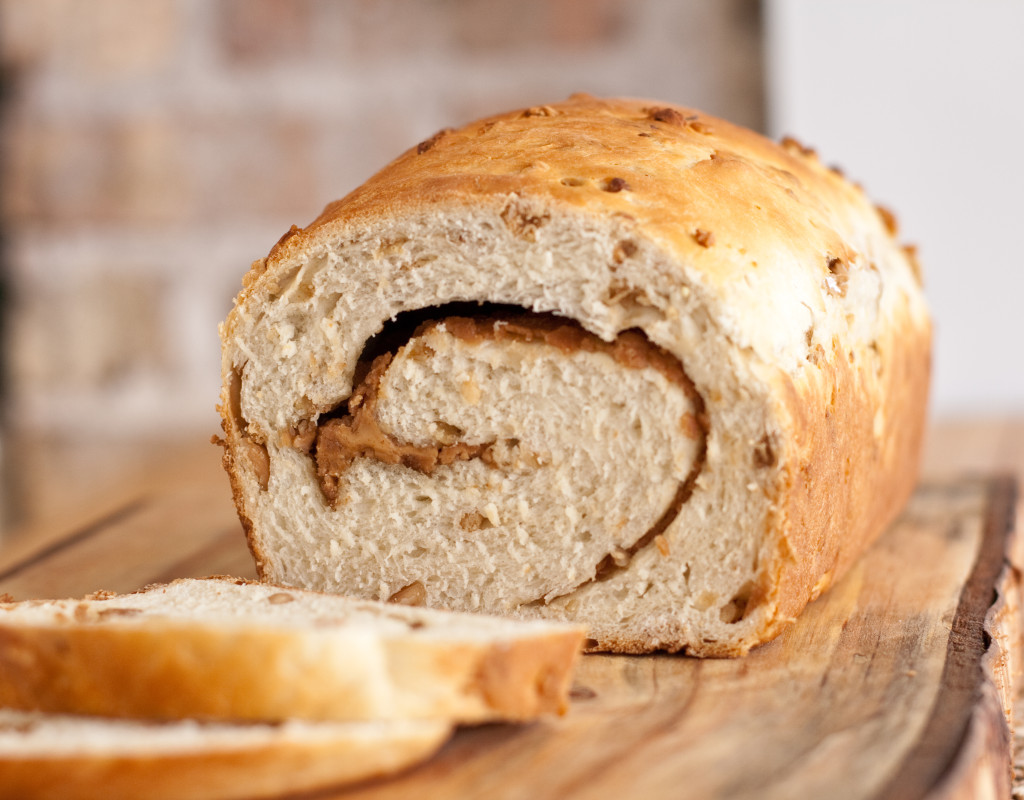 you don't even need to waste time putting anything on this. just eat it naked. it's like a pastry with little crunchy bits of peanut buttery granola goodness
speaking of granola. this stuff is my new favoritest granola ever. KIND Peanut Butter Healthy Grain Clusters. sounds healthy AND tastes like it could be dessert. win. but here's how i do it– i save chocolate indulgent gooey things for dessert and reserve KIND granola for snacking straight out of the bag all. day. long. the ingredient list is short and wholesome, and has all kinds of whole grains (even quinoa!) so i put it on my pretty-much-good-for-you list. but don't be fooled by the word 'healthy'- this stuff is addicting, people! keep it in a drawer at work for a afternoon pick-me-up. but don't hold me responsible if you eat the whole bag.
back to this bread. i'm not lying when i say i'd compare it to a pastry. the top is brushed with a honey-butter mixture that puts it into the "insanely delicious" category. not to mention the incredible peanut butter swirl. peanut butter lovers- rejoice. i considered throwing chocolate chips into the swirl but decided that sometimes PB is enough. can you imagine making french toast with this bread and topping it with chocolate maple syrup? OH MY YUM.
what are you doing to celebrate national peanut butter day?
peanut butter swirl KIND granola bread
time: about 2 hours 45 minutes, 2 1/4 hours inactive
2 1/4 teaspoons active dry yeast (one packet)
1-1/4 cups warm whole milk (110° to 115°)
1/4 cup honey + 1/2 tablespoon reserved for brushing on top
3 tablespoons butter, melted + 1/2 tablespoon reserved for greasing bowl and brushing on top
1/2 tablespoon kosher salt
3.5 cups all-purpose flour
1 1/3 cups Peanut Butter KIND granola
3/4 cup creamy peanut butter
dissolve the yeast. getting the milk temperature right doesn't have to be rocket science. just make sure it feels warm on your most sensitive finger. if its too hot to touch you'll kill your precious yeast friends. combine the milk and honey in the bowl of a stand mixer. pour in yeast and swirl it around with your finger to dissolve. let it sit for about 5 minutes, until it's a little foamy.
make the dough. add the butter, salt and 2 cups of the flour. mix until smooth. add the remaining 1-1/2 cups of flour and mix on medium to slow speed for about 5 minutes (i mix on speed 2 or 3 on my kitchenaid). your dough should be tacky, but not sticky. if it's sticky, just add a tablespoon more flour at a time.
let the dough rise. turn the dough onto a floured surface and knead 10 times. form a nice little ball and put into a clean, greased bowl (i just washed my stand mixer bowl and buttered it), turning once so that the top of the dough is also greased. cover with a damp dishcloth and leave somewhere warm (a sunny window works great!) to rise for about an hour, until doubled.
make the log. transfer the dough back onto a floured surface. make a well in the center and add half the granola. mix until combined, then add the other half of granola in the same way. roll the dough into a 9×18 inch square, using your hands the stretch it if you need to. sometimes if you just leave it to relax for a minute it's easier to continue stretching. spread the peanut butter across the top of the rectangle. then roll it up the long way, so you have a 9-inch long log. place it in a greased 9×5 inch bread pan.
add the glaze. melt the 1/2 tablespoon of butter and honey together and brush it on the dough. cover with a damp dishcloth and leave to rise in a warm place for 45 minutes, until doubled.
bake the bread. heat the oven to 350 degrees if you're using a dark pan (or the original recipe recommends 375 degrees for glass and light colored pans). bake for 30-35 minutes, uncovered.
let it cool. good luck with that. but the peanut butter may need some time to solidify before you cut it. this bread is most definitely the best on the first day, but can last 2 days. after that, it'd be great for french toast!
base bread recipe slightly adapted from the slow roasted italian.
disclosure- this post is in partnership with KIND but all opinions are my own.
also for national peanut butter day…
peanut butter chocolate chunk cookies
peanut butter pancakes with chocolate maple syrup
Hey! Like what you see? Click "follow" in the bottom corner to keep in touch!
enlighten yourself with other interesting posts: