we finally cleaned our basement.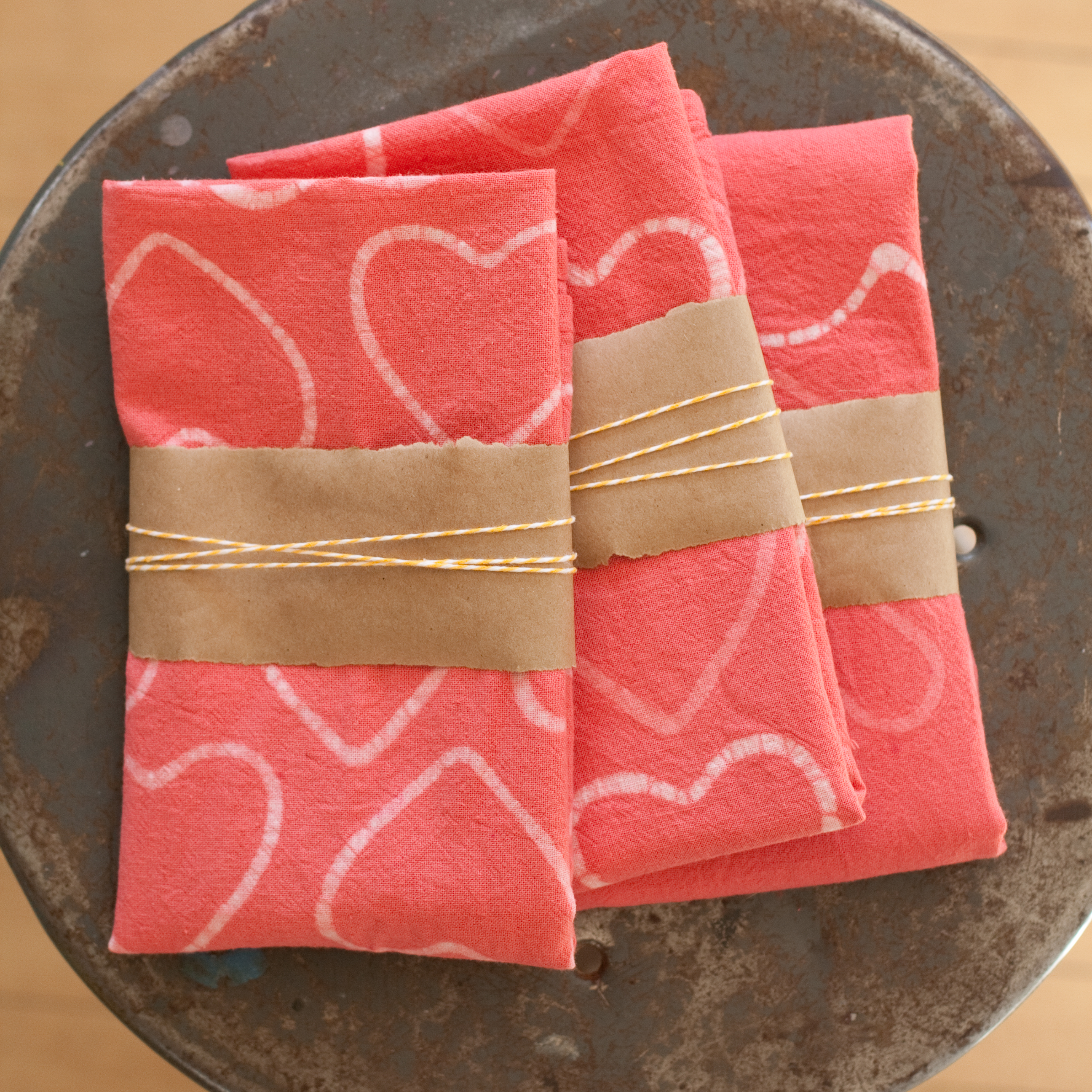 does anyone else have a basement that acts as "the pit?" where things go to get out of your sight? only one day you walk down there and trip over 173 things on your way to the washing machine? it was time to take action. good thing i did, because i found a bundle of dishtowels my mother-in-law gave to me (a year ago) to screen print on. only that never happened.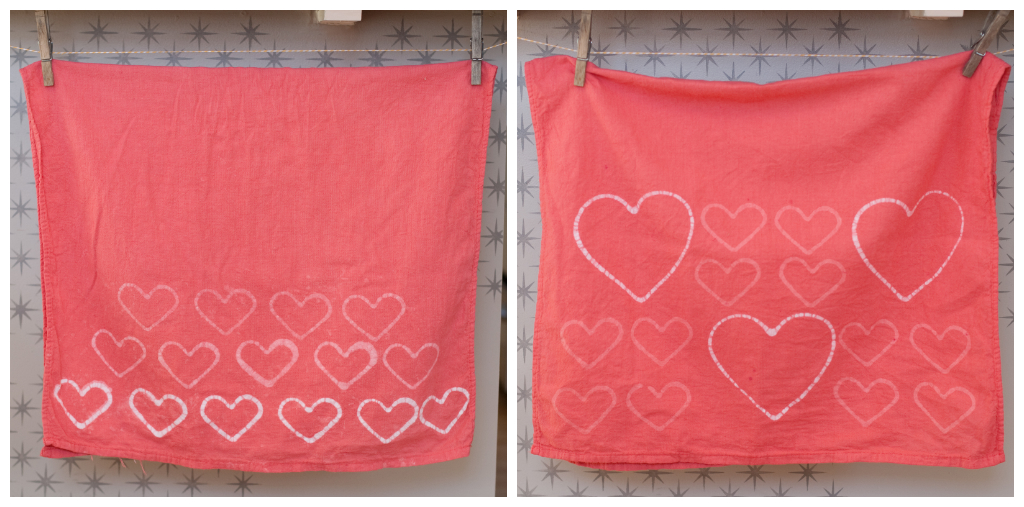 and since i was in the dying mood (dye not die) from dip-dying our ombre curtains a few weeks ago, i got this idea. batik. batik is the art of using wax to create patterns or shapes on dyed fabric. where there is wax, dye will not go. simple as that.
as you may know, valentine's day is quickly approaching (can someone hint to my husband that I really want this typography book?!) and i LOVE valentine's day. the hearts. the pink. the candy. it almost kills me to know how many of my favorite things can be represented with one holiday. so while i used a heart cookie cutter, you can really use anything to apply the wax. drag the prongs of a fork, dot with a dowel, splatter with a spoon, or just use a stamp or other cookie-cutter shape!
oh, did i mention you can do 4 of these for around $10 if you're smart with coupons? i got the soy wax from michael's for 5 dollars with their 40% off coupon, the dye was on sale for $1.15, and you can get flour sack towels from target for $4. perfect!
batik dishtowels
what you'll need:
plastic cover to a storage bin
1 package RIT dye powder
soy wax*
white dish towels
objects to apply wax with: cookie cutter, fork, stamps, dowel, brush
piece of paper to test on
plastic tub to hold dye
dish soap
*soy wax melts at a much lower temperature than traditional wax, making it MUCH easier to use. drips don't burn you or any of your surfaces and can be cleaned up with warm water!
heat the wax. i put about an inch of wax shavings into a pot and heated it until it started to form some bubbles at the bottom. i didn't heat it up enough on my first try and this is what resulted (below). the wax wasn't completely going through the fabric and i tried to "redo" which only made it worse and globby. if you apply the wax and it doesn't soak into the fabric (instead it dries as a bump on top) your wax is not hot enough! just throw it  back on the burner for a minute and you'll be set.
test your application method. my cookie cutter had a low side and a high side, so testing it showed me how hard i needed to press in certain places for the whole heart to be applied. just do a little experimenting first to see what you like and don't like about the way your object applies the wax.
apply the wax to the fabric. get creative! use several different objects if you want! drips and mistakes are okay. don't look too closely at mine if you don't agree.
mix the dye. follow the directions on the inside of the dye box. i boiled a few cups of water to dissolve the dye in, then used hot water to fill my plastic tub.
dye the fabric. carefully run the towels under cold water. try not to disturb the wax since dye will get in any cracks you make. throw the towels into the dye for about a half hour, stirring every 5 minutes to make sure the fabric is evenly dyed.
rinse the fabric and remove wax. rinse the fabric in cold water until the water runs clear. fill your sink with very hot water (alternatively, you can use a pot on the stove but i don't have a pot that large) and add about a tablespoon of dish soap. put the towels into the hot water and stir them around/agitate them until the wax has been removed. rinse them once again just to get some of the soap out.
dry the towels. hang the towels to dry. once dry, any wax you missed can be removed by laying kraft paper on top of the wax and ironing. the kraft paper will draw the wax out of the towel.
if you want to get really fancy. you can do multiple color shapes if you dye for short periods in between wax applications. just rinse and let the towel air-dry before you apply more wax! it takes some time, but i like the result (you can see multi-color towels in the collage above) here's how i did it (though the colors are off because the first one was done in the morning and the last was at dusk):
enlighten yourself with other interesting posts: